Have you ever contemplated whether demolishing an old building was the only way to remove it? Do you have a door knob you'd like to replace, but you'd rather not throw it away? A local non-profit will happily tell you that the old building isn't garbage and that door knob can surely find another home. Located in Northeast Portland, the ReBuilding Center has been a hub for reuse and community outreach since its inception in 1997. Not only does the organization seek to reduce waste in the community through the resale of salvaged and donated materials, but it strives to encourage connections through community involvement and education. This is no small undertaking; however, with the passionate vision and hands-on actions of staff and volunteers, the ReBuilding Center is rebuilding communities in Portland and serving as an inspiration for those who want to see similar transformational changes in their own.
The store and organization are located at 3625 N Mississippi Avenue – in an area of Portland that is rapidly gentrifying. The shifting culture of the neighborhood has created both challenges and opportunities for the organization, as it strives to reach community members in need of its services. As needy populations are forced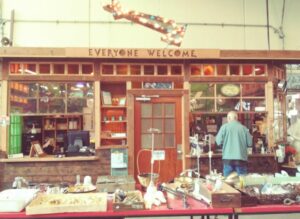 to move to less expensive neighborhoods, the ReBuilding Center contemplates how it can continue to serve those people. One of the ways in which ReBuilding Center is managing this is through collaboration with other community groups and organizations, such as Central Church of the Nazarene, Catholic Charities, and the African American Alliance for Homeownership – to name a few. Working with Catholic Charities, for example, the ReBuilding Center has supported the work of Kenton's Women's Village, which seeks to transition women off the streets and out of homelessness. Offering resources and community service are two ways the ReBuilding Center are redefining the ways community members interact with the greater Portland community. These partnerships offer us an excellent model of what is possible when we work together to address our shifting environmental and social climates.
In addition to community outreach, the ReBuilding Center offers used materials for renovations, home improvements, and general building. To highlight the ways in which we may creatively use what others may no longer want, the Center has utilized donated materials to build up and decorate the store and office spaces. Supplies in the store are sold at 40-90% below market value and are obtained through donations or the Center's "Deconstruction" services. Compared to the conventional method of demolishing old structures, deconstruction is the practice of salvaging as much as possible from a site destined for change. Not only are the materials sold back into the community – reducing the treadmill of production – deconstruction services employ more people than a demolition, thereby contributing to higher employment rates. To exemplify the impact of the ReBuilding Center's practices on our community and the environment, a few numbers are worth mentioning:
In 2018, the ReBuilding Center diverted 1,800 tons of materials from the waste stream.

Deconstructing a ~2,000 square foot house versus demolition saves 2,400 gallons of fresh water, provides approximately 900 working hours, and prevents 33 mature trees from being cut down.

Also in 2018, deconstruction services saved 260+ tons of carbon dioxide from entering the atmosphere, 20,000+ kW/h of electricity, and 360+ trees from being cut down.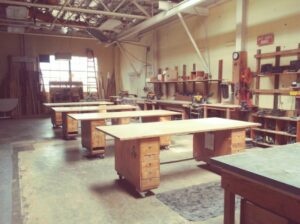 If enacted at a national or global level, such practices would be revolutionary. As Alexandra Ferrara, the Rebuilding Center's Administrative and Marketing Assistant aptly states, the Center is "turning liabilities into assets."
The ReBuilding Center is an incredible ally and asset to the Portland community. Not only does it offer us affordable building materials and workshops to develop new skills, but the Center is also taking bold action to address environmental and social issues affecting the greater Portland area. Through the elimination of usable materials from the waste stream and the rehabilitation of communities in need, the ReBuilding Center is a beacon that encourages us to come together and work for an equitable and sustainable future.
Acknowledging the work that the ReBuilding Center has done in these regards, GPSEN awarded the Center as one of three local organizations/businesses leading sustainability efforts in the greater Portland area. Their work has actively contributed to the Sustainability Development Goals (SDGs) set forth by the United Nations in 2015. For example, the ReBuilding Center supports SDG number 8 by providing training and employment for skilled laborers, as well as creating jobs in markets like deconstruction services. The Center promotes SDG number 9 by supporting sustainable industrialization and the reuse of materials to renovate spaces; furthermore, by participating in projects such as deconstruction and the development of transitional housing for homeless people, the Center is innovatively addressing the needs of a changing society. SDG numbers 10 and 11 are enacted by creating inclusive spaces for marginalized community members and advocating for equal opportunities. Responsible production and consumption (SDG number 12) is the mission of the ReBuilding Center; keeping usable (and useful) materials out of landfills through resale is one way in which they practice this. Lastly, but not leastly, the ReBuilding Center is utilizing community partnerships to foster resilience and integrity in Portland – and beyond. In 2016, inspired by the work of the Center, Kanako Azuna returned to his home in Japan and founded ReBuilding Center Japan. Such an act goes to show that by sharing our experiences and actions, we can inspire others to transform the world around us into a more sustainable and just world for everyone.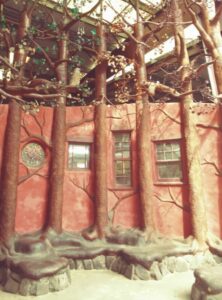 To learn more about their work, take a class, or to get involved, please visit their website (https://www.rebuildingcenter.org/) or stop by the store Monday through Saturday 10-6, Sundays 10-5.
Jeremiah Graff is an independent writer and full-time student; this blog was completed as part of a community-based learning component at PCC. He is passionate about sustainability, indigenous movements and ways of living, and working for a brighter future for all living beings. In his free time, he enjoys long walks in the forest, plant-based cooking, and gardening. He may be reached at jgraff@pdx.edu.