A Timely Climate and Energy E-Learning Series to Use and Share
We have curated the start of our new CLEAN Elementary collection! We have over 65 resources specifically chosen and reviewed for elementary students, including resources focused on climate topics as well as resources that will help students build foundational climate knowledge. In this newsletter, we highlight two distance-learning suitable resources and introduce our new CLEAN Elementary Teaching Strategies module on the CLEAN Website. We also include a recent article from Yale Climate Connections that discusses ways to talk about climate change with kids.
Through learning activities, students learn how weather over a long period of time describes climate, explore how sea level rise can affect coastal communities and environments, as well as describe how humans are contribution to climate change and how we can take action to solve this problem. There are multiple activities in this resource and some may be able to be done virtually.
Audience: Elementary School
Take a look at some more GLOBE resources in the CLEAN collection.
There is a story book that discusses what is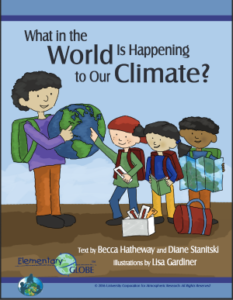 happening to our climate that is paired with three activities and two coloring sheets. All of the activities include numerous interconnected scientific concepts regarding climate change as well as implementation of critical thinking skills and data interpretation and analysis. The activities use scientific methods such as data collection, graphing, and observing to support understanding of weather and climate.
To go along with the launch of the CLEAN Elementary resource collection we have designed new webpages to help support elementary teachers in teaching climate and energy. The pages offer easy-to-read explanations of issues teachers may encounter or ideas they should consider when designing and implementing elementary climate and energy teaching curriculum. Each page is illustrated with examples to help teachers determine best practices for their own classrooms.
| | |
| --- | --- |
| | Looking for activities for your students to do from home? Have your K-5th grade students join CLEAN on October 21st at 1pm MST for a virtual live lesson about melting ice, and its relation to climate. Students will get to experiment with ice during this fun, hands-on lesson, which only requires ice, salt & pepper, as well as dark and light-colored plates if students have them! (Clear cups, a ruler, thermometer, and stopwatch are also useful but not necessary). This lesson also connects with several of our Science@Home talks by CIRES/NOAA scientists that would be appropriate for upper elementary and older students. |