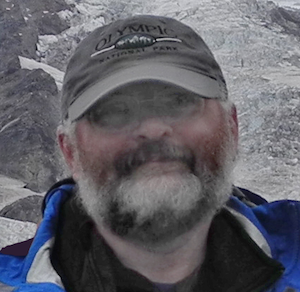 For over two years I have served as both a board member and a research fellow with GPSEN. As such my focus has been on developing climate, energy, and sustainability curriculum, as well as nurturing the various connections necessary to support this work.
By background I am a geologist, a veteran college and science center educator, and an insufferably proud grandparent. As a geologist my principal research involves looking at how changing climate affects mountain glaciers and the water resources associated with them. This experience has given me uncomfortable insights into the impact of climate change on natural resources and human welfare. This plus the fact that I'm a grandfather makes me more than a bit concerned about the rather bleak legacy we seem to be leaving our descendants. It is this concern that drives my involvement with GPSEN and a number of other organizations, as well as my decision to continue teaching beyond retirement – I currently teach climate science courses at PSU and coordinate the Global Environmental Change cluster for the school 's University Studies program.
Some of the other organizations I'm involved with include PSU's Institute for Sustainable Solutions, Union of Concerned Scientists, and Ecumenical Ministries of Oregon. In regards to the latter I am an active Quaker strongly committed to the idea that maintaining a habitable climate is as much about doing justice and being a faithful steward of creation as it is a technical problem.
As a research fellow with GPSEN I have spend much of my time developing virtual reality tours or "walkabouts" showcasing local and some not so local examples of sustainable development and habitat restoration. These are meant to give students and others the opportunity to explore places that are hopeful examples of individuals and communities dealing with the kinds of environmental and social problems threatening us. Though much of this work has focused on creating virtual products useful to educators and the stewards of the sites being represented, an emerging and exciting facet of the work has been engaging students in the fieldwork needed to create these products. While this aspect of the work is still very much in its infancy a number of promising trials have been done with undergraduate student teams from PSU and University of Portland, in a addition to middle school summer camp students.
The other important aspect of my work as a fellow has been making the local, regional, national, and international connections needed to support this work and other GPSEN activities. This has taken me to a number of interesting events – most notably COP23 (the 2017 UN climate conference in Germany) and the Global Climate Action Summit in San Francisco. It has also meant becoming an active participant in a number of networks such as the Climate Literacy and Energy Awareness Network and Union of Concerned Scientists' Science Network.