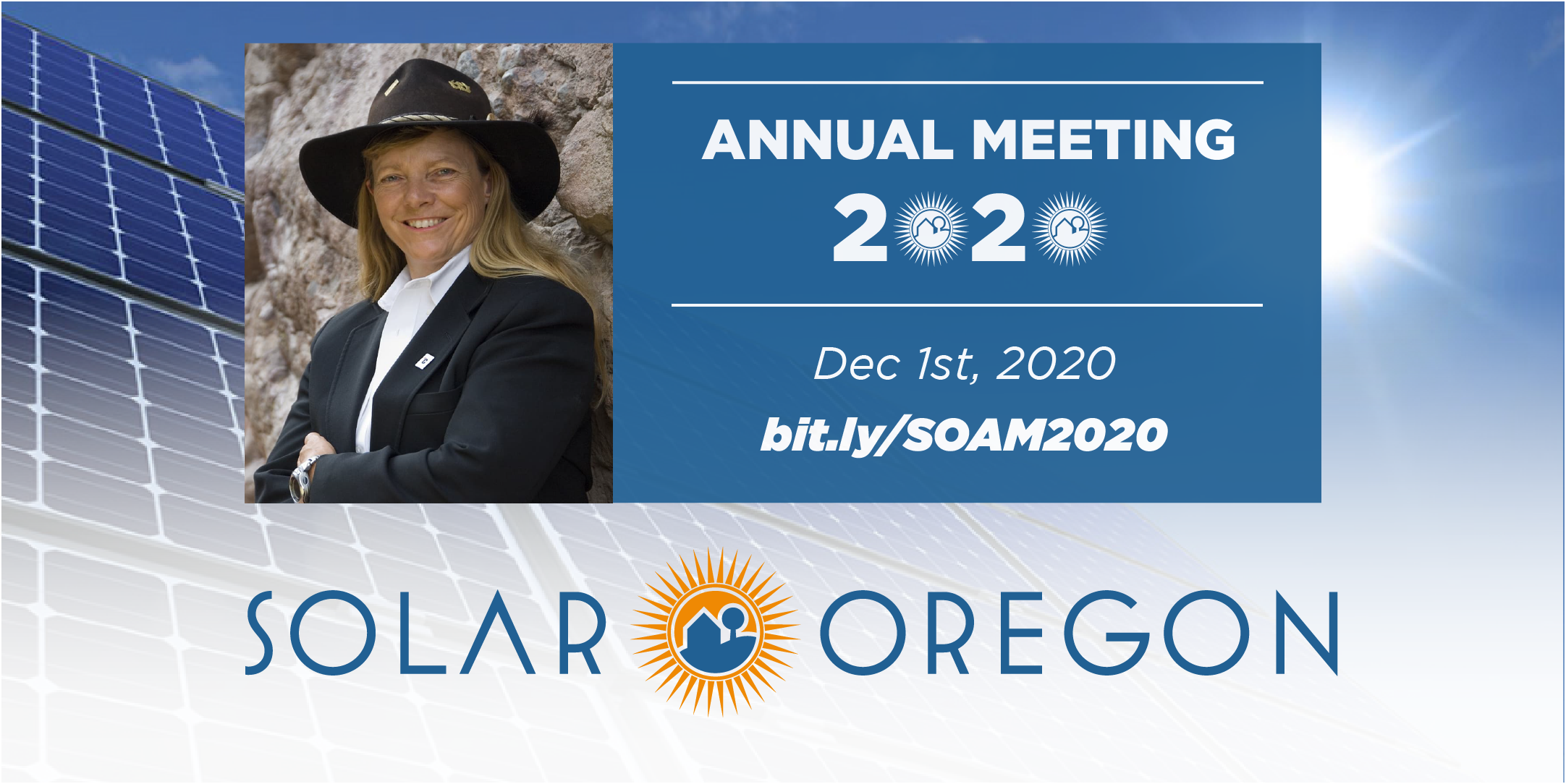 Solar Oregon Annual Meeting
December 1, 2020 @ 6:00 pm

-

7:30 pm

Free
Each year Solar Oregon comes together (virtually in 2020) to celebrate our community, members, and nonprofit mission. This year, we have plenty to celebrate: despite a global pandemic and economic slump, the clean energy transformation is only accelerating.
We are thrilled to be joined by internationally-esteemed regenerative economy thought leader Hunter Lovins–founder of the nonprofit Natural Capitalism Solutions. Hunter will deliver this year's keynote address on her recent work regarding the Solar Dominance Hypothesis, which has far-reaching implications for global economics, policy, and the social impact of an abrupt clean energy transformation.
We will also hear 5 minute presentations (our 5X series) from several local leaders in Oregon who are tackling issues of climate and climate justice on the ground. Following these exciting presentations, Solar Oregon's board nominations for 2020 will be voted on by our members. This virtual event is free and open to the public. Full speaker bios below.
Keynote Speaker:
Hunter Lovins – L. Hunter Lovins is the President and Founder of Natural Capitalism Solutions (NCS), a non-profit formed in 2002 in Longmont, CO. A renowned author and champion of sustainable development for over 35 years, Hunter has consulted on business, economic development, sustainable agriculture, energy, water, security, and climate policies for scores of governments, communities, and companies worldwide. Within the United States, she has consulted for heads of state, departments of defense, energy agencies and hundreds of state and local agencies.
5X Speakers:
Jaimes Valdez, Portland Clean Energy Fund Startup Team – For the past year and a half, Jaimes Valdez has been part of the City of Portland team developing the Portland Clean Energy Fund (PCEF) program, a landmark local climate policy championed by a coalition of frontline-led organizations. PCEF is slated to begin funding projects in the new year, and promises to channel the benefits of a clean energy economy toward the communities who most need it.
Haley Mountain, Community Energy Project – Haley Mountain is Community Energy Project's Engagement Manager who oversees the Community Education Department and promotes new and existing relationships with community-based organizations, government agencies, and funders. Community Energy Project has been deeply involved in the development of Oregon's Community Solar program, on which Haley will deliver some exciting updates.
Joe Wachunas, Electrify Now – A cherished former changemaker at Solar Oregon, Joe Wachunas is now working with Electrify Now building a coalition focused around electrification. This key frontier of climate adaptation is rapidly accelerating, and Joe will share what Electrify Now has in store for 2021.
Greg Harr, Solar For All – Solar for All, Inc. is a grass roots, 100% volunteer, 501(c)3 nonprofit organization installing solar photovoltaic systems on affordable homes in Oregon, and SW Washington. Since 2015, they've installed over 88kW on 23 affordable homes in Multnomah, Jackson, and Washington counties in Oregon, and Clark County Washington. Their work has resulted in 250 tons of CO2 offset and $30,000 in utility bill savings since 2015. Founder Greg Harr will share stories and details of some of their current projects.