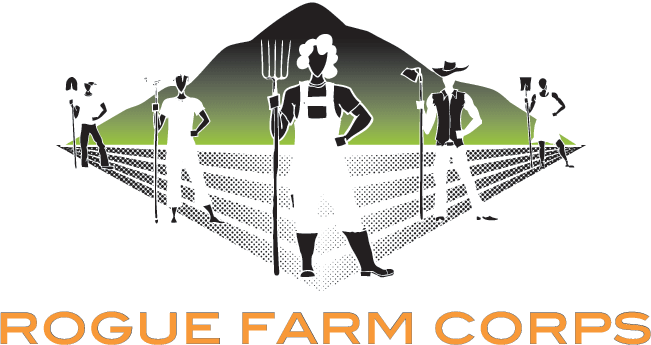 Rogue Farm Corps farmer training programs 2019
January 8 @ 8:00 am

-

February 1 @ 5:00 pm
Applications are open with no fee through January 15th, 2019 for Rogue Farm Corps' farmer training programs for seasonal positions in 2019 on diverse, sustainable host farms in 4 chapter locations in Oregon. A $15 application fee starts January 16th through the end of the application period on March 15th, 2019. Please see attached flyer (good for printing or emailing) and program descriptions below.
Rogue Farm Corps' Internship Program is a full season entry-level residential internship that combines hands-on training and skills-based education in sustainable agriculture.
Participants live and learn on a host farm, receiving up to 1,500 hours of on-farm training and learning in-depth skills from their mentor farmer over the course of a farming season. The hands-on, residential training experience is combined with farm tours, classes, and discussion circles throughout the region, as well as an independent study project, and access to lots of resources for further learning. Interns are exposed to a vast array of knowledge and expertise by engaging in the daily life of vibrant, agricultural communities.
The Apprenticeship Program is an advanced program for those with farming experience who are seeking mastery in the art and business of sustainable agriculture. Hands-on training, classes, weekend workshops around the state, an independent study project, and guidance in farm business development will allow participants to gain the skills to plan, design, and run integrated farming systems on their own.
This full-immersion program is designed for those who have completed an internship program with RFC or a similar organization, or have two years of on-farm experience. Apprentices live and learn on a host farm, receive up to two seasons of on-farm training, and learn in-depth skills from their mentor farmer. The rotating two-year curriculum focuses on advanced farming techniques and business planning and management.
Rogue Farm Corps is the only organization in Oregon that offers structured, entry-level and advanced farmer education and training programs rooted in real-world farm businesses. We work with host farms located in the Rogue Valley, the Portland Metro Area, the South Willamette Valley, and Central Oregon and offer experiences with vegetable production, animal husbandry, dairy, mixed operations, and more. For complete program descriptions, host farm profiles, and applications visit http://roguefarmcorps.org
Rogue Farm Corps is committed to an ongoing learning process around privilege, power, inequality and systems of oppression. RFC has a goal of making our programs welcoming to, inclusive of, and accessible to communities who are under-represented as farm operators in Oregon, including women, people of color, LGBTQ individuals, low-income individuals and immigrants. Our desire to create a more equitable food system will be reflected in RFC's programs and collaborations.
Applications for RFC program scholarships will be available on our website in early – mid January.
Matt Gordon
Portland Chapter Coordinator / Rogue Farm Corps
(503) 310-5766
roguefarmcorps.org
facebook.com/roguefarmcorps