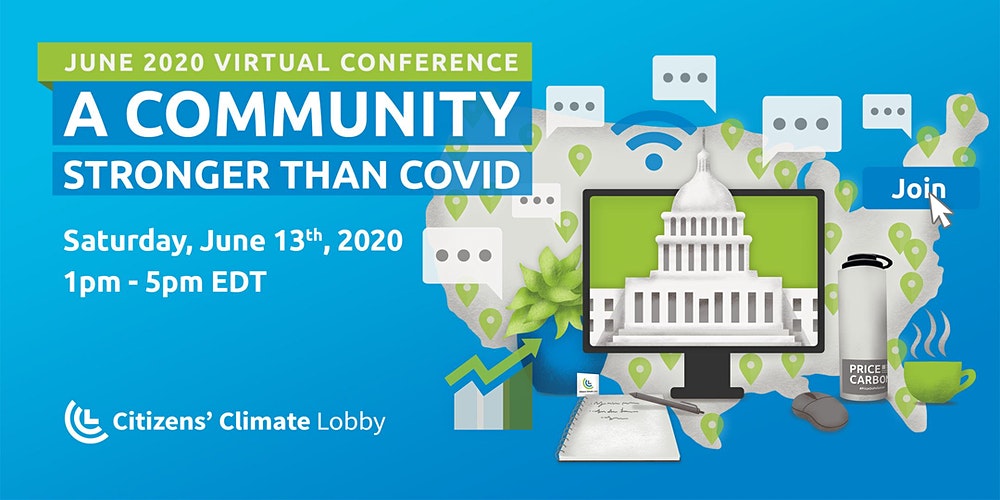 Registration Open for Citizens Climate Lobby!
June 13 @ 1:00 pm

-

5:00 pm

Free
The nation's attention is focused on the COVID-19 emergency, but the other crisis that is disrupting our lives — climate change — is not going away. Though we can't come together in Washington this year, CCL is holding a virtual conference starting Saturday, June 13, and registration is now open.
The conference, "A Community Stronger Than COVID," will be held on Zoom from 1 to 5 p.m. ET. In-depth seminars will also be offered from 1 to 3 p.m. ET on Sunday, June 14. The conference is free.
Join CCL's virtual conference to learn about the path ahead for climate change policy.
Get updated on the prospect of climate change action from members of Congress, journalists and other climate organizations.
Get trained on how to engage your member of Congress and others in your community about climate change.
Connect virtually with others from around the country who are concerned about climate change and working to get Congress to act on climate.
Although the conference does not include lobbying this year, in a separate activity our CCL chapters will lobby congressional offices on Tuesday, June 16, and Wednesday, June 17. The process for forming lobby teams varies from district to district. Contact your local chapter leader, congressional liaison or regional coordinator to find out the local process and availability of slots on the team, as well as to let them know of your interest in participating. All meeting team assignments, meeting plans and practice meetings for this June will be handled locally, similar to in-district meetings. (Schedules will not be sent out by CCL Headquarters.)