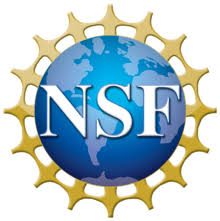 NSF Graduate Research Fellowship Program (GRFP)
October 21, 2019 @ 8:00 am

-

5:00 pm
The purpose of the NSF Graduate Research Fellowship Program (GRFP) is to help ensure the vitality and diversity of the scientific and engineering workforce of the United States. The program recognizes and supports outstanding graduate students who are pursuing full-time research-based master's and doctoral degrees in science, technology, engineering, and mathematics (STEM) or in STEM education. The GRFP provides three years of support for the graduate education of individuals who have demonstrated their potential for significant research achievements in STEM or STEM education. NSF especially encourages women, members of underrepresented minority groups, persons with disabilities, veterans, and undergraduate seniors to apply.
This solicitation covers the Fiscal Year (FY) 2020 and FY2021 competitions.
Applications must be submitted in research.gov through the GRFP Application Module (https://www.research.gov/grfp/Login.do).
Applications are due at 5:00 p.m. local time of the applicant's mailing address.
Portions of the eligibility criteria have been rewritten for clarity.
Individuals pursuing a master's degree simultaneously with the bachelor's degree (joint bachelor's-master's degree) must have completed three years in the joint program and are limited to one application to GRFP; they will not be eligible to apply again as a doctoral degree student. Individuals in this category who applied in the FY2019 competition (Fall 2018 deadline) are eligible to apply as first-year doctoral students only in the FY2020 competition (Fall 2019 deadline).
Sections of the Field of Study eligibility criteria have been rewritten for clarity.
The required number of Reference Letters has been clarified.
Reference letters are due at 5:00 p.m. Eastern Time (ET).
Application Deadline(s) (received by 5 p.m. local time of applicant's mailing address):
October 21, 2019
Life Sciences, Geosciences
October 22, 2019
Computer and Information Science and Engineering, Engineering, Materials Research
October 24, 2019
Psychology, Social Sciences, STEM Education and Learning
October 25, 2019
Chemistry, Mathematical Sciences, Physics and Astronomy
Frequently Asked Questions (FAQs) for for Applicants to NSF 19-590 Graduate Research Fellowship Program (GRFP)
Event Navigation