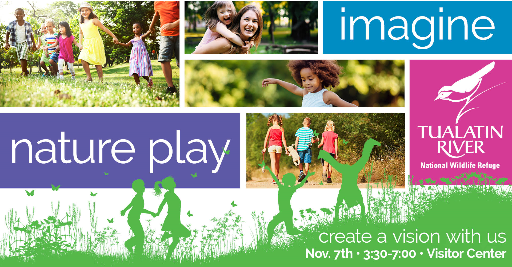 Nature Play at Tualatin River National Wildlife Refuge
November 7, 2019 @ 3:30 pm

-

7:00 pm
WHAT
: Tualatin River National Wildlife Refuge is in the planning stage of creating a Nature Play Area at the Refuge. We've identified a site and are now to the point of imagining what the style of play could look like and what features will support that style.
This drop-in event will feature conceptual drawings, displays about different types of nature play features, tours of the nature play site (until it becomes too dark to do so), and refreshments.
WHY: Tualatin River NWR endeavors to be an asset to the community and support a variety of nature-based activities. Safe, off-trail, free-play in nature has long been critical to the healthy development of children, yet these opportunities are a dwindling resource. The Refuge has been a great place for families to learn about nature through programs and events for over two decades. Through this project, we want to build on that connection through the joys of play.
WHEN: Thursday November 7th, from 3:30pm to 7:00pm
WHERE: The Refuge Visitor Center's Riparian Room (the community room to the right of the front desk). We will lead periodic tours to the Nature Play site that you will have the option to join. Water resistant footwear is recommended.
WHO: Anyone with an interest in how the Refuge, through free play in nature, can be an asset to your personal child development goals or the goals of your organization.
If you have experience with children's health, mental and physical development, play for all abilities, or the design and construction of Nature Play Areas, we would love to hear from you.
If you simply enjoy Nature Play and want to share the types of features you and your children love (even features that help you, as a parent or guardian, relax and let your children play freely), we want to hear from you, too.
CAN'T MAKE IT BUT ARE INTERESTED?
Send an e-mail with your thoughts to tualatinriver@fws.gov