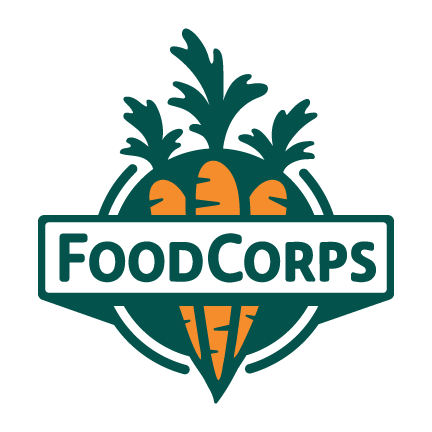 Job: Digital Communications Manager (Food Corps)
September 26, 2018 @ 8:00 am

-

October 13, 2018 @ 5:00 pm
What We're Looking For:
FoodCorps seeks a savvy storyteller and experienced digital communications professional to manage its digital strategy and oversee implementation across all channels. This person should be a strong verbal, visual and written communicator with a keen understanding of the role that digital marketing plays in growing audiences, building community support, activating stakeholders toward campaign and policy objectives, and raising funds for a vibrant social change nonprofit. The ideal candidate has a demonstrated record of creative digital strategy in both advocacy and fundraising and a proven track record of growing audiences across communications channels. In partnership with our Fundraising, Recruitment, Alumni and Policy teams, the Digital Communications Manager will be involved in a wide range of communications-related work including identifying and telling FoodCorps' most compelling stories. This position reports to the VP of Marketing and Communications.
This full-time position will be based in FoodCorps' New York City office. Occasional travel required.
Who We Are:
FoodCorps believes every school should be a healthy school and every child – regardless of race, place or class – deserves to be well nourished and ready to learn. In underserved communities across the country, our AmeriCorps leaders teach students about healthy food through hands-on lessons, partner with farmers and food service workers to create nutritious and delicious school meals, and collaborate with communities to ensure a long-term culture of health. Building on this foundation of direct impact, FoodCorps pursues systemic strategies that will benefit all of our nation's 100,000 schools.
Who You Are:
You are compelled by FoodCorps' mission and eager to share our story with a broad range of audiences. You bring a marketing and analytics mindset, are highly motivated, a great written and visual communicator, design- and detail-oriented, with a deep well of experience raising money online, leading advocacy campaigns, and bringing people up a ladder of engagement. You have experience setting digital strategy, writing digital content and managing websites. You have experience managing communications calendars, juggling multiple projects and tight deadlines. You are comfortable working in a fast-growing, high-paced work environment. You have a commitment to diversity and inclusion with a desire to work for health equity and social and racial justice. You have excellent instincts for risk mitigation in digital communications, and a deep desire to protect the integrity and carefully cultivated brand position of FoodCorps.
Primary Responsibilities:
Develop and oversee our digital strategy, including:
Increasing brand awareness of FoodCorps among our target audiences
Driving email strategy and coordination, including adding, retaining, and segmenting subscribers
Designing and executing seamless fundraising, advocacy and programmatic campaigns across all digital channels, in collaboration with key staff
Overseeing WordPress website to deliver content that is fresh, easily digestible and relevant to FoodCorps' audiences, working across the organization to reflect the goals of each arm of the organization accurately and compellingly and growing and engaging the audience in each sector
Writing and leveraging compelling content in order to maximize the reach of FoodCorps' platforms with key audiences, to engage and raise the profile of financial and programmatic partners, and to meet promotional and fundraising goals
Familiar with measurement tools (Google Analytics,Google Data Studio) to track analytics across all channels in order to enhance campaigns, and measure progress toward list growth and engagement
Translate analytics into easy-to-understand, insightful and actionable reports to present to stakeholders
Working closely with Content Manager on execution and implementation across all platforms
Working closely with entire communications team to maintain brand and message consistency across digital media initiatives
Participating in training of our AmeriCorps service members to tell an integrated and authentic story of FoodCorps across various channels
Skills of the Ideal Candidate:
At least four years experience in digital communications including online marketing, branding, analytics and social media
Project management experience, including working with stakeholders across teams to assess needs, recommend strategies, set goals and establish and meet deadlines
Demonstrated success in attracting and engaging new audiences across various platforms and channels
Proven track record of establishing high-impact, digital fundraising strategies on annual and campaign timelines
Strong experience with email marketing systems (i.e. Pardot, Mailchimp) for setting up trigger campaigns
Basic HTML/CSS coding and troubleshooting experience; experience with WordPress
Experience managing an AdWords account for a non-profit
Experience managing social media advertising budget
Highly creative with experience identifying and leading digital marketing strategies
Demonstrated record of developing rapid response advocacy campaigns in partnership with policy and advocacy content experts
Experience in developing various types of content across digital platforms
Experience managing a brand's social media presence across multiple platforms, including Facebook, Twitter, LinkedIn, and Instagram
Strong writing and editing skills; ability to produce original, clear, concise, error-free digital content within tight deadlines; attention to detail
Comfortable learning and implementing new technologies quickly
Experience using Salesforce or similar CRM for query and reporting
Strong analytical skills with experience interpreting engagement and fundraising metrics from multiple sources
Self-starter with ability to operate at a hands-on detailed level, take the lead on complicated projects and anticipate strategies through to the end
Intellectual curiosity about, understanding of and enthusiasm for the work of FoodCorps, with an interest in food, health, education, agriculture, and/or national service
Experience with and interest in inclusive, equitable communications that increase the diversity of our audiences
How to Apply:
Applications will be accepted until our ideal candidate is identified. To be considered, submit your résumé, cover letter and salary requirements through our hiring site at http://foodcorps.hiringthing.com/.
FoodCorps pays salaries that are competitive with nonprofits of our budget size and geographic location, and offers generous vacation and medical benefits, 401(k) matching, professional development funds and a sabbatical policy. This position is a Manager role with a salary range beginning at $62,000 per year.
People of color, people with disabilities, veterans and LGBTQ candidates are strongly encouraged to apply. FoodCorps is committed to a diverse workplace, and to supporting our staff with ongoing career development opportunities. FoodCorps is an equal opportunity employer and does not discriminate in its employment decisions. FoodCorps provides reasonable accommodations to applicants and employees as required by law.
Applicants with disabilities may request reasonable accommodation at any point in the employment process.
PROFESSIONAL LEVEL
None specified
MINIMUM EDUCATION REQUIRED
No requirement