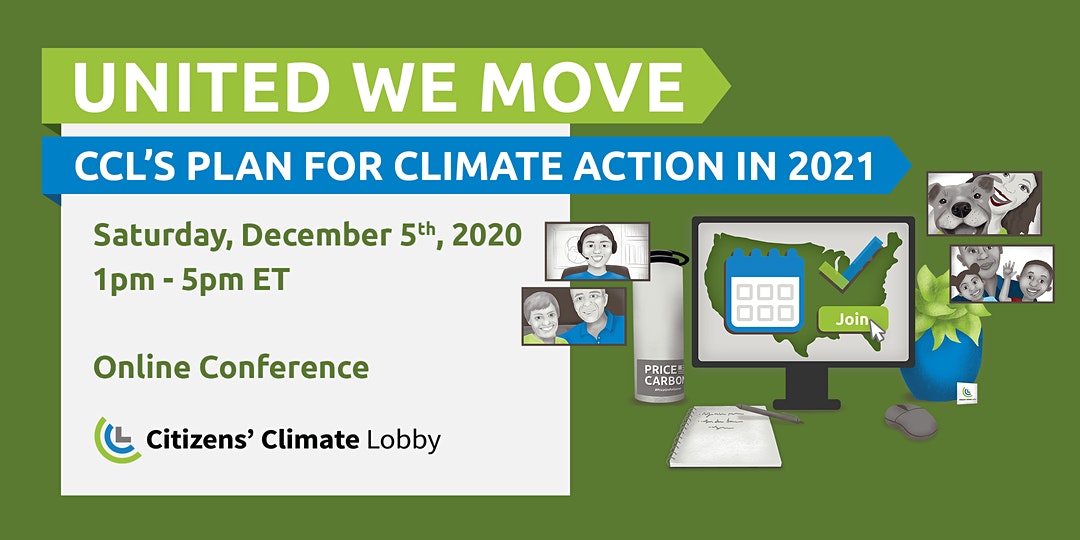 Intersection of Race & Climate among topics for Citizens Climate Lobby Conference Seminars
December 5, 2020 @ 1:00 pm

-

5:00 pm

Free
Climate change and racial justice were two of the biggest issues this year, and the intersection of those two concerns is the topic of one of four deep-dive seminars being offered with our December virtual conference (Dec. 5-6). Here's a quick rundown of the Sunday sessions being offered for "United We Move."
A Lens into Race and Climate: Looking for ways to make your chapter more inclusive for individuals who are Black, indigenous and people of color? This two-hour session offers tools and practices to counteract racial bias and microaggressions to create a more welcoming environment.
Bridging the Divide on Climate Solutions: This two-hour workshop with Braver Angels, designed in collaboration with CCL, teaches communication skills that will allow people with differing views to talk more constructively with each other about solutions to climate change.
Envisioning Climate Success and Your Next Steps: This two-hour seminar uses a mind-expanding time-travel exercise to free up your imagination and consider new solutions. Participants walk away with fresh ideas, feeling affirmed about what they care about most, and with a new sense of purpose. This session is currently full.
New Research on Carbon Pricing Benefits and CCL's June Analysis: This three-hour workshop covers the Household Impact Study on carbon dividends, the carbon price needed to reach net-zero emissions by 2050, health benefits of our preferred climate policy, and an analysis of our June lobby meetings.
All seminars start at 1 p.m. ET / 10 a.m. PT on Sunday, Dec. 6. If you haven't registered for the conference, you'll need to RSVP for both the Saturday and Sunday sessions. If you're already registered for the Saturday conference, you can register again just for the Sunday seminars. If you have questions about the seminars, email conference.inbox@citizensclimate.org.
Register Now for a seminar!
Event Navigation