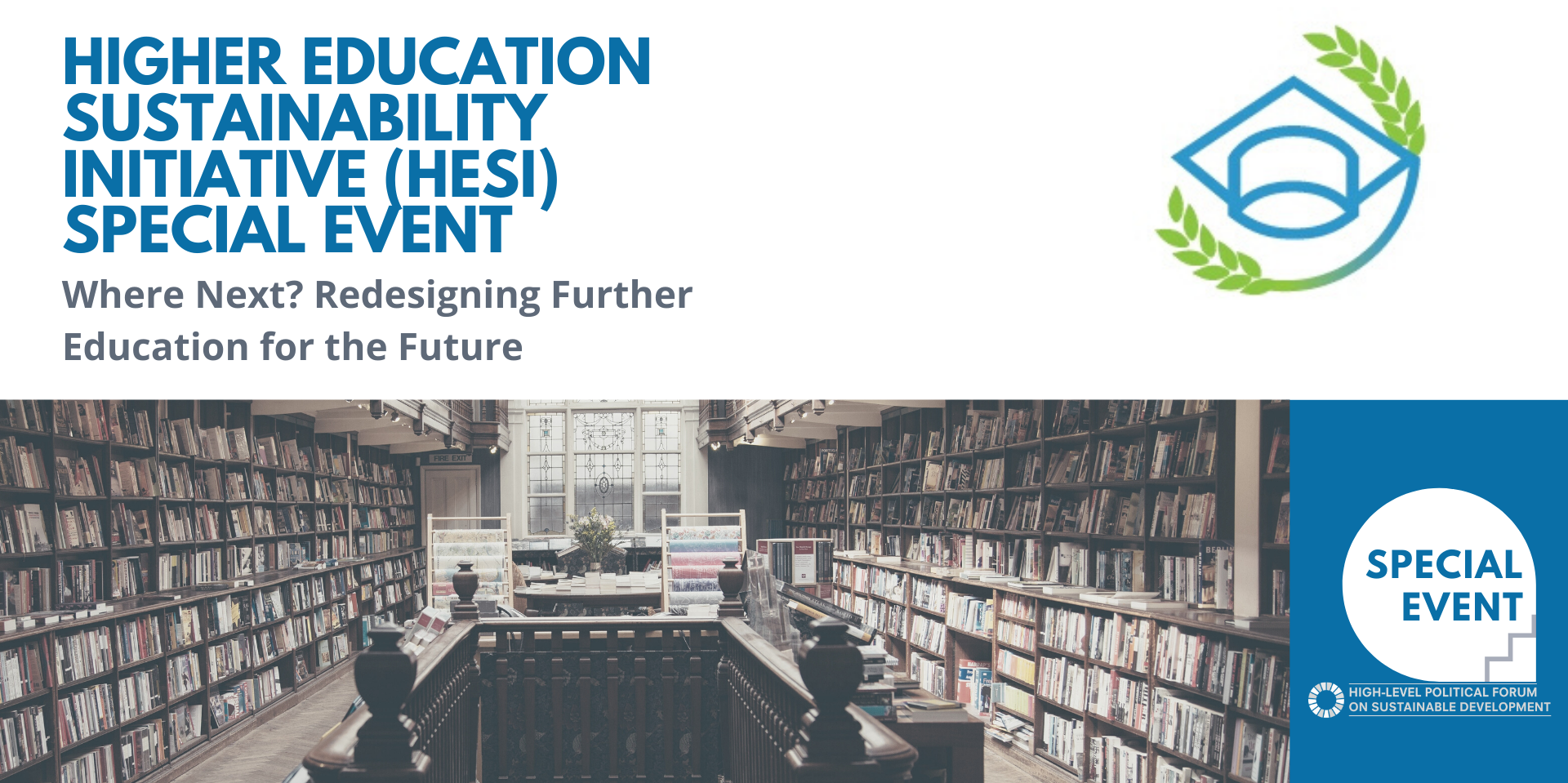 Higher Education Sustainability Initiative (HESI)
July 8 @ 5:00 am

-

7:00 am

Free
The Higher Education Sustainability Initiative (HESI) in an open partnership between United Nations Department of Economic and Social Affairs, UNESCO, United Nations Environment, UN Global Compact's Principles for Responsible Management Education (PRME) initiative, United Nations University (UNU), UN-HABITAT, UNCTAD and UNITAR.  Through its strong association with the United Nations, HESI provides higher education institutions with a unique interface between higher education, science, and policy making.
On 8 July 2020, HESI is organizing a special event during the 2020 High-level Political Forum on Sustainable Development.
Higher Education plays a vital role in educating the current and next generation of leaders, driving the research agenda for both the public and private sectors and plays a critical role in shaping the direction of national economies.In this era of uncertainty, the question for this year's Higher Education Sustainability Initiative Annual Conference at the High-level Political Forum is how can we redesign higher education in support of sustainable development, a green recovery, and regenerative pathways for education. This agenda will support the theme of this year's High-level Political Forum which is ​"Accelerated action and transformative pathways: realising the decade of action and delivery for sustainable development"​. The discussion will seek to provide insight on how Covid-19 will affect the sector and what new ideas are being considered that can enable higher education to enable radical change and regeneration. In addition to this discussion, there will be a special HESI Members roundtable that will be held on 9 July to reflect on this discussion and encourage actionable next steps.
Event Objectives:
Reflect on where we are: ​Through the discussion, to understand​ the impact of COVID-19 on Higher Education so we know "where we are";
Explore where we want to get to:​ Explore new ideas as to how we can ​regenerate, renew and revitalise ​ Higher Education and explore different pathway that would offer ideas on how to Redesign Higher & Further Education for the Future;
Be inspired, while considering access and equity, to build collective intent: ​Be inspired by new, propositional fresh thinking as to what we can achieve collectively while also ensuring that we consider inclusion and equity at all levels, everywhere.
REGISTRATION DEADLINE JULY 3.  More information/register here
Learn more about HESI and consider helping it reach its full potential.  Share with your networks as appropriate.