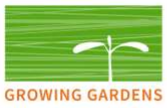 Growing Gardens Youth Grow Educator
Position: Youth Grow Educator at Powell Butte and Glenfair Elementary  
Reports to: Youth Grow Manager
Time:  30 hrs/week if working at both schools. There is also an option to work 15 hours at 1 of the schools. 
Application deadline: February 3rd . 
Schedule: Four days a week during school hours if at both schools. 

Term: School year with potential for reduced schedule summer programing
Hourly Wage $17.50 to start 
Location: Powell Butte School (3615 SE 174th Ave) and Glenfair School (15300 NE Glisan St) with meetings and planning time at Growing Gardens office
Do you want to join a team of driven educators working to get kids excited about healthy food, building community and connecting with the natural environment? Are you ready to be challenged and gain new skills? If so, we want you to join our team and grow with us!
Growing Gardens uses the experience of growing food in schools, backyards and correctional facilities to cultivate healthy, equitable, communities. We believe that access to nourishing, culturally-appropriate food is a basic human right. We are working to become an anti-racist organization through our programs and internal operations.
Youth Grow is a program of Growing Gardens that collaborates with diverse school communities to develop sustainable garden education programs at 11 schools.  We offer interdisciplinary, experiential learning opportunities aimed at helping children connect with nature, and grow and eat their garden harvests.
We are seeking to hire an educator who is enthusiastic about using gardens to teach environmental science, explore food traditions and spark curiosity.

For more details, please visit the job listing: http://www.growing-gardens.org/wp-content/uploads/2020/01/Youth-Grow-Educator-Glenfair-Powell-Butte-Schools.pdf