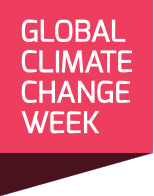 Global Climate Change Week
October 15-21
Climate change poses a major threat to sustainable development. As the Intergovernmental Panel on Climate Change says, 'Climate change will create new poor between now and 2100, in developing and developed countries, and jeopardize sustainable development' (2014).
For this reason, it is important for everyone concerned about sustainable development to take action on climate change. One way for academic communities in particular to do so is by taking part in Global Climate Change Week (GCCWeek), an initiative designed to encourage academic communities – including academics, students, and non-academic staff at universities – in all disciplines and countries to engage with each other, their communities, and policy makers on climate change.
Start planning now.  Learn More Here.