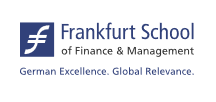 Global Climate Change Week 2019: Frankfurt School Webinar Series
October 14, 2019

-

October 18, 2019
Welcome to join Frankfurt School GCCW Webinars 14-18 October!
When it comes to climate change the financial industry plays a key role. Sustainable finance is more relevant than ever and Frankfurt School of Finance & Management has been focusing on this topic for some time now. The Business School is not only home to two competence centres advising the private sector as well as the public, but also discusses the topic in its academic programmes.
From Monday, October 14, 2019, until Friday, October 18, 2019, Frankfurt School participates in the Global Climate Change Week 2019. We therefore warmly invite you to three live streamed brown-bag seminars experts of the Business School are going to hold:
Professor Dr Ulf Moslener about the Global Trends in Renewable Energy Investment Report 2019  (GTR)
Monday, 14 October, 12.30 – 13.30, Room S1.02
Dr Pieter Pauw about Financing countries' climate action plans (NDCs)
Tuesday, 15 October 2019, 12.30 – 13.30 Uhr, Room S1.03
Menglu Zhuang about Market Imperfections in Sustainable Finance
Friday, 18 October 2019, 12.30 – 13.30, Room S1.03
Please find more information on the Global Climate Change Week 2019 and the sessions of the Frankfurt School experts here:
https://www.frankfurt-school.de/en/home/newsroom/news/2019/Oktober/global-climate-change-week
The sessions will be live-streamed at the website Sustainability@FS at the given time (click link). After the week, the seminars will be available as videos.