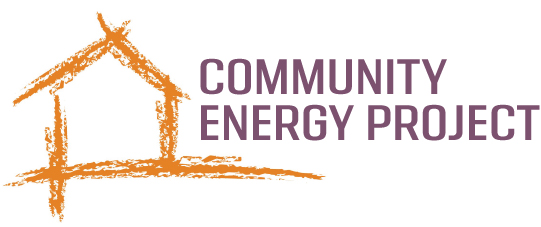 Community Solar Coordinator
January 8, 2020 @ 8:00 am

-

January 29, 2020 @ 5:00 pm
*Please visit www.communityenergyproject.org/job-opportunities/ for full application instructions*
If interested please send resume and cover letter to Haley Mountain at haley@communityenergyproject.org by 5:00 PM on January 29th.
ABOUT: Community Energy Project (CEP) is an independent nonprofit that delivers DIY workshops on conservation and safety, as well as direct services in these areas to seniors and people with disabilities. CEP provides Home Energy Scores, on-bill financing, and contractor referrals. We have recently become the Low-Income Facilitator for Community Solar.
MISSION: Community Energy Project believes that everyone deserves a safe, healthy, efficient home regardless of income.
TITLE: Community Solar Coordinator
COMPENSATION: $15-$19/hour DOE (full-time, non-exempt) paid sick and vacation; health insurance fully paid; 403(b) available.
REPORTS TO: Engagement Manager
POSITION SUMMARY: CEP is the Low-Income Facilitator for the Oregon Community Solar Program and is responsible for engaging with communities that have been traditionally left out of the solar market, such as those with lower incomes and people of color. The Community Solar Coordinator will be a part of the Engagement Team at CEP to help with program development and the launch of the new Community Solar Program. The Coordinator will conduct research, outreach, and education to Community-Based Organizations (CBOs), municipalities, and to the general public using an equity lens. This position will require significant travel around Oregon, public speaking, partnership building, client support, and data management.
ESSENTIAL RESPONSIBILITIES:
1. Community Engagement – Engagement and education with the public at large
a. Partner research & outreach planning
b. Workshop development and delivery
c. Relationship-building with other CBOs, municipalities, etc.
d. Work with larger Program Administrator Team as needed
2. Participant Management – One on one interaction with participants and Project Managers
a. Participant education, Q&A
b. Verification and enrollment
c. Waitlist communications
d. Working with Project Managers and solar developers for participant allocations and marketing plans
e. Data management, working with solar platform
QUALIFICATIONS and REQUIREMENTS:
1. Minimum Bachelor's Degree or three years' experience in outreach, program development, and partnership building
2. Must have a minimum of three years experience with group facilitation, public speaking, and nonformal community/adult education for both lay and professional audiences 3. Strong passion for equity and renewable energy
4. Knowledge about renewable energy or solar development preferred
5. Experience in adult education; diversity, equity, and inclusion, environmental justice preferred
6. Excellent interpersonal skills—able to manage and communicate effectively with diverse individuals and groups of people in a variety of manners, including public speaking/presentations
7. Experience with data management, data analysis, reporting, and program evaluation
8. Must have the availability to work a flexible schedule, including some evenings and weekends and extended statewide travel
9. Must have a valid driver's license, good driving record, and access to a vehicle, willingness to travel around state, sometimes for several nights
10. Bicultural/Bilingual in Spanish or Russian helpful
Statement of Inclusion: Community Energy Project is an Equal Opportunity Employer. Community Energy Project values and operates by a policy of inclusion, providing equal opportunity to all persons regardless of their protected status, including race, color, creed, religion, sex, age, national origin, marital status, sexual orientation, gender identity, disability, and/or any other class determined by law.
Additional:
Position requires extensive time sitting in front of a computer as well as long periods of time standing while working out in the field at community events, workshops, and training events. Applicant may have to be able to lift 25lbs repeatedly, load and unload outreach and workshop materials from the warehouse to vehicle at the beginning and end of events, lift boxes when receiving shipments of materials, and stand for extended periods of time
May travel nationally to attend conferences and conduct professional trainings for up to one week at a time
Non-smoking, drug-free workplace
Job Type: Full-time
Salary: $15.00 to $19.00 /hour
Details
Start:

January 8, 2020 @ 8:00 am

End:

January 29, 2020 @ 5:00 pm

Event Category:

Event Tags:

Website:
Related Events
February 19

-

February 20