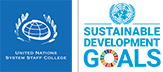 Circular Economy and the 2030 Agenda
We are pleased to inform you about UNSSC's brand new five-week online course on 'Circular Economy and the 2030 Agenda'. This engaging course will focus on harnessing circular economy principles and systems-based approaches to explore ways in which we can redesign our systems, products and services to allow us to achieve a sustainable living for all, within planetary limits. With the help of theoretical, practical and case study based approaches, the course will focus on 'how' and 'why' minimizing waste generation and maintaining the value of products and resources for as long as possible will be critical to achieving the goal of the 2030 Agenda – sustainable development for all.
Upon successful completion of this course, participants will be able to:
Demonstrate the interconnection between Circular Economy strategies and their potential in implementing the 2030 Agenda for Sustainable Development
Explain the butterfly diagram of circularity through technical and biological cycles of products and resources
Apply a system-thinking approach to designing out waste and pollution from the life cycle of products and services
Understand the ways that value can be generated and retained by keeping materials and products in use
Recognize the value of urban ecosystems as hubs to regenerate natural systems
Participants will also benefit from live moderated webinars which will feature valuable inputs from renowned subject matter experts, and will allow real-time dialogue with high-level speakers. Webinar recordings will be made available to ensure that participants have a flexible and seamless learning experience. An expert facilitator will guide and assist the participants throughout the course, and will provide real-time feedback on activities and exercises. Our user-friendly social online learning platform will provide participants with the opportunity to connect with peers from diverse organizational backgrounds, fostering peer-to-peer learning.
For more information and to register, please visit http://bit.ly/CircEcon2020-1. Deadline for registration is on 01 May 2020. Should you have questions, please email sustainable-development@unssc.org.