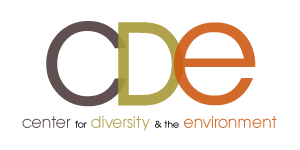 CDE E42 Emerging Leaders Program
***Deadline extended through the New Year–New Deadline is January 6th***
The Center for Diversity & the Environment is honored and pleased to announce that through generous funding from Metro Nature and Neighborhood and The Collins Foundation we are offering another Environment 2042 Leadership Program for Emerging Leaders cohort in 2020.
Our E42 Emerging Leaders Program is focused on supporting emerging leaders age 18-25 in their personal growth and work to deepen understanding of the implications of our changing demographics, understanding systems as ways of supporting or undermining performance, developing skills in working across differences and with communities of color and developing action plans.
Each cohort includes representation across various dimensions of diversity with a strong emphasis on racial and ethnic diversity. Selecting a balanced cohort is a critical and a unique element of this leadership program. Applying for this cohort means you will be placed into a selection pool from which we will select that balanced cohort. We will let you know as soon as we make the final selections in December. Because we are carefully balancing our cohort, this invitation is specific to any young person you recommend.
Following is more information about the E42 Emerging Leaders Program and the Center for Diversity & the Environment. Please feel free to contact Gladys Ruiz with any questions.
For more information about Center for Diversity & the Environment and our work, visit: www.cdeinspires.org
Event Navigation