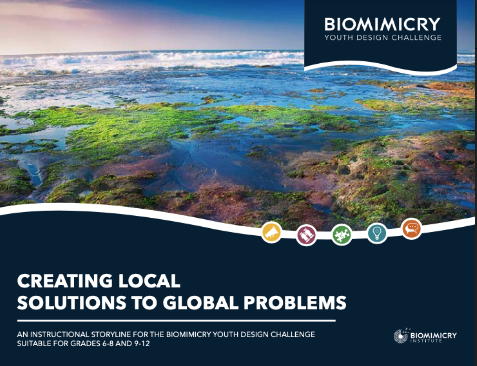 Biomimicry Youth Design Challenge- NGSS and UN SDG aligned
The Youth Design Challenge (YDC) is a free, hands-on, project-based learning experience that provides classroom and informal educators with a new framework to introduce biomimicry and an interdisciplinary approach to science and environmental literacy. Working in teams with an adult coach, students explore the wonders of the natural world and apply what they learn to create innovations that support a healthier planet. Learn more about the YDC and how to participate below.
Timeline
The Youth Design Challenge follows an academic calendar, with entries reviewed once annually in late spring.
Registration Opens: November 1, 2019
Submissions Open: December 2019
Coach Support and Prof. Dev.: November 2019 – February 2020
Registration Closes: March 1, 2020
Submission Deadline: April 1, 2020 (6pm Pacific Time)
Judging Period: April – May 2020
Award Announcement: May 2020
Who can participate?
The Youth Design Challenge is a team competition for students in middle school (grades 6-8) and high school (grades 9-12) in the US. A team consists of between 2-8 students and 1 or 2 adult coaches affiliated with a school, educational organization, or homeschool. Please refer to the Official Rules for complete eligibility details.
What will your team do?
Your team will take on the role of innovators and work together to apply biomimicry (nature-inspired innovation) to address a social and/or environmental issue related to climate change adaptation or mitigation. Suggestion: work on an issue that affects your local community! As a coach, you will guide your students as they study how organisms in nature have adapted to similar problems and challenges and apply what they learn to innovative solutions. Final projects can then be entered into the nationwide competition for prizes awarded by the Biomimicry Institute.
How does the Challenge meet instructional goals?
The Youth Design Challenge is aligned to Next Generation Science Standards (NGSS) for both middle school and high school. Full alignments can be downloaded below.
What is required to enter the Challenge?
Entries are submitted online and include the following elements:
Written project overview 
Project image
Video pitch
Project portfolio
Team photo
For complete details about requirements, please visit our Submission Guidelines page. 
Judging and Awards
Awards are given each year for 1st, 2nd, and 3rd place in two categories: middle school and high school. Coaches participate in the judging process during a preliminary review period in which they will rate a selection of student entries against a rubric. Award winners are then selected by a panel of expert judges from the top-scoring entries.
Winning teams will receive an award certificate and have their work publicly recognized online and/or in the media. The school or organization that hosted the team will additionally receive a cash award in the following amounts: 1st Place – $1,000; 2nd Place – $750; 3rd Place – $500.
Curriculum and Training
Prior experience with biomimicry is not required to participate in the Challenge. A variety of resources and online training opportunities are provided to help you support your students, including standards-aligned unit planning resources and a detailed 7-lesson design curriculum module that will guide your team step-by-step through the biomimicry design process. Once you have registered for the Challenge, you can explore these materials in the Resources section of this website.
Event Navigation