During this Spring term 2019 at Portland Community College, I have been taking a class focused on environmental sociology. As part of the curriculum, our instructor Dr. Kim Smith – founder of GPSEN – invited the class to participate in the Northwest Earth Institute's EcoChallenge. As part of the three-week challenge, we were encouraged to take actions and educate ourselves about sustainable practices and organizations. One of these organizations was Green Empowerment. At the time I did not realize they were in Portland, let alone one of GPSEN's Sustainable Leadership Award winners. Since then I've had the opportunity to have a conversation with Development Manager Kristen Grauer and Program Director Caitlyn Peake. Through our conversation and research into the actions and story of Green Empowerment, I too feel empowered by the ways they are working towards the UN's Sustainable Development Goals (SDGs).
During a time of civil war in Nicaragua, a mechanical engineer by the name of Ben Linder traveled to Nicaragua (1983) to support the efforts of the Sandinista revolution to improve the lives of the poor. Working with locals, Linder helped develop a hydroelectric dam to bring electricity to El Cuá. Alas, while scouting for another hydroelectric dam site, Linder was killed along with two Nicaraguans by the Contras. His work was carried on by Rebecca Leaf – founder of the Rural Association of Development Workers-Benjamin Linder – and also inspired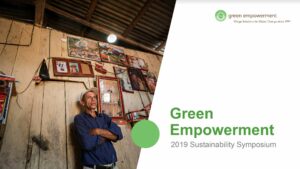 the founding of Green Empowerment in 1997. The collaboration of these two organizations has supported the livelihoods of many rural Nicaraguans, supplying them with clean water and energy. Green Empowerment continues to work with local partners in Nicaragua to develop micro-hydro systems and watershed management plans, implement solar power and improved cookstoves, as well as training local partners for capacity building and sustainable practices.
Since the inception of Green Empowerment, the organization has established partnerships in several other countries, including Bolivia, Colombia, Ecuador, Peru, Malaysian Borneo, Myanmar (Burma), and The Philippines. In 2018, Green Empowerment made palpable impacts in 57 communities:
5,859 people gained safe access to clean water (SDG #6)

2,125 people gained access to renewable energy at home or school, while 23,250 people gained access to renewable energy in health clinics (SDGs #7, #9, and #11)

1,349 community leaders trained (SDG #17)
Through the implementation of clean technologies and training community leaders, Green Empowerment is supporting the resilience of communities most directly affected by climate change. As Grauer and Peake noted, there are campesinos in Nicaragua who have nothing more than a second-grade education who will readily attest to a changing climate. It is a wonder that even with an extensive education system in the United States, there are many today who remain unconvinced we are in the midst of an ecological crisis. In either case, Green Empowerment is working to bring sustainable changes to communities in need. Though their work is centered around supplying renewable energy, clean water and cookstoves, and training/development, the organization's work invariably supports efforts towards the attainment of other Sustainable Development Goals, such as
SDG #8 – Decent Work and Economic Growth through the employment and training of community leaders and laborers.

SDG #5 – Gender Equality through education and leadership development of women.

SDG #10 – Reduced Inequalities between rural communities and their urban counterparts.
These efforts show us that our contributions to a cause often carry multi-faceted benefits for our local communities and can inspire others elsewhere to work with theirs. Whether that is installing a solar panel or saying hello to your neighbor, small actions add up to create powerful, positive change. Green Empowerment shows us what is possible through vision, innovation, and partnership. May we look to their work as an inspiration for a brighter, cleaner future for all.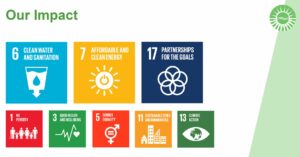 Green Empowerment offers volunteer opportunities, internships, and international service-learning opportunities. To learn more or to make a financial contribution to their work, please visit https://www.greenempowerment.org/.
Jeremiah Graff is an independent writer and full-time student; this blog was completed as part of a community-based learning component at PCC. He is passionate about sustainability,  indigenous movements and ways of living, and working for a brighter future for all living beings. In his free time, he enjoys long walks in the forest, plant-based cooking, and gardening. He may be reached at jgraff@pdx.edu.