Business Sustainability Leadership Award Winner
Portland utility PGE has been named the GPSEN 2020 Business Sustainability Leadership Award Winner for its innovative programs, including Green Future Impact, and for its commitment to making half its energy renewable by 2025. We spoke with Caitlin Horsley, PGE's Principal, Sustainability & Decarbonization Strategy, about the company's work to build renewable capacity today and for the future.
GPSEN: You have done innovative sustainability work for more than a decade in the public & private sectors. What challenges or opportunities motivate your work in this area?
CAITLIN: Thank you for the recognition and the invitation to discuss sustainability in connection with the great work GPSEN is doing.
Although I'm not sure many young professionals strive to end up in the electric utility industry, it really is an exciting time to be doing this work. So much of our region's efforts to slow the progression of climate change rely on our energy and related infrastructure from renewable energy generation, as well as customer programs and our work to advance transportation electrification. Having reliable, affordable and clean energy, in my mind, is a linchpin to Oregon's sustainable future, which makes our work both important and exciting. Some of our biggest upcoming opportunities will also be some of our biggest challenges including furthering transportation electrification in our region and crafting an economic recovery after COVID-19 that also catalyzes our sustainability as a region. 
GPSEN: PGE has recently made record commitments to produce more renewable, carbon-free energy.  What is your outlook, both in the COVID-19 context and beyond, for progress toward this goal – as well as the larger goal of cutting PGE's 1990 carbon footprint 80% by 2050?
CAITLIN: At PGE, economy-wide decarbonization is a key tenet of our strategy and we believe it is our moral imperative. By working with the Oregon Public Utility Commission to create programs such as Green Future Impact, we can further decarbonize the energy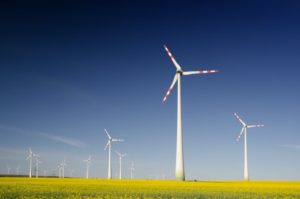 supplied to our customers and communities while delivering products they want and also keeping our prices affordable and energy supply reliable. It is a constant balancing act, but one that is worth it for our customers. Part of my work is looking at other initiatives both large and small that help us achieve our goal of more than 80 percent reduction in greenhouse gas (GHG) emissions. Something we've been working on for the last year or so is a Fleet Decarbonization Study, which looked at how we can decarbonize our fleet of over 1,000 vehicles. Since finishing the study, we've been working to implement the necessary planning processes while also sharing our progress with customers who also have vehicle fleets in the region. We know that decarbonizing our economy is something that we cannot do alone. 
When it comes to the implications of COVID-19, I believe the case for sustainability will be even stronger during our economic recovery. For now, we must focus on keeping our energy reliable and affordable as it is more important than ever to assist Oregon in getting through this crisis.
When it is time to think about what our state's recovery will look like, I think we will need to be very intentional and prioritize investments that help us build the successful, resilient and sustainable economy that we all deserve. 
GPSEN: In what ways do you think that education is a key part of how we can achieve a sustainable future? And how do you see these efforts aligning with GPSEN goals?
CAITLIN: PGE is supporting climate literacy and clean energy education programs designed to engage students in hands-on learning experiences about climate change and how they can be part of creating a clean energy/sustainable future.  What's unique about this curriculum is it is a robust, supplemental curriculum that will be open-source and available to all, which means opportunity for input, additions, critique and continued learning even after the curriculum is developed. Because it is a fully integrated curriculum for grades Kindergarten to year 12, the curriculum deepens the learning as students move through each year of school in different classes (i.e. not just in climate justice classes). This holistic perspective connects students to science and social studies standards through a real-world lens and it also guides them through essential questions to enduring understandings that they can translate into real-world action and application.
Education is so key to the advancement of societies and solving our biggest, most complicated problems, of which climate change tops the list. Also, the students are asking for this education and curriculum in order to act as change agents. By offering what we can towards this curriculum development I hope we can work together to increase the opportunities and resources for climate-related education.
This initiative is very aligned with GPSEN's mission. By connecting PGE's subject matter experts with education experts and students to work together toward creating this open-source curriculum we hope to open up the opportunities for education, empowerment, and engagement around climate-literacy in our schools. I have no doubt that we will also learn from this process and be even better able to reach our decarbonization goals for our region. 
GPSEN: How does your role on Green Empowerment's board complement or contrast with your work at for-profit PGE?
CAITLIN: Serving on the Associate Board for Green Empowerment is a great complement to my work at PGE. As a native Oregonian, I'm very passionate about my work to protect our beautiful state for future generations; however, I'm also passionate about this work on a global scale. Green Empowerment's work in developing countries not only provides renewable energy and clean water but also poverty alleviation and the advancement of women's empowerment. Serving on the board is a great way to complement my work at PGE while also expanding my knowledge of climate change impacts on a global scale and connecting with other like-minded professionals. 
GPSEN: With GPSEN's Sustainability Symposium theme of 'A Call For Action', as well as Earth Day's upcoming 50th anniversary, what actions by institutions or by individuals toward sustainability do you think are most urgently needed during this time of crisis?
CAITLIN: I think right now we must really focus on the health of our community and prioritizing that as we endure this crisis. However, as we use this pause to really think about what is important to us and how to rebuild our economy in a way that coincides with those priorities, I think the case for sustainability is even stronger.
We have a once in a lifetime opportunity to pause and redirect our economy like we never have before. We've been afforded this opportunity to implement the tenants of sustainability by including more environmental and social impacts in our decision-making both as individuals and as institutions.
A few ways we can do this are to be intentional with our recovery investments whether that's choosing to buy local or moving our retirement to sustainable or ESG funds. There is so much opportunity for our institutions to also prioritize sustainability such as stimulus packages focused on clean energy projects and employment with an eye toward equitable resiliency with less reliance on short-term gains. This is undoubtedly an extremely difficult time for our region as well as our world and I hope we can use this to help propel us to a more sustainable and resilient future.
To find out more about PGE's commitments to renewable energy, read a letter from President and CEO Maria Pope outlining PGE's strategy.
This interview was conducted by Andrew Butz and has been edited for clarity and length. Featured image by Zbynek Burival on Unsplash